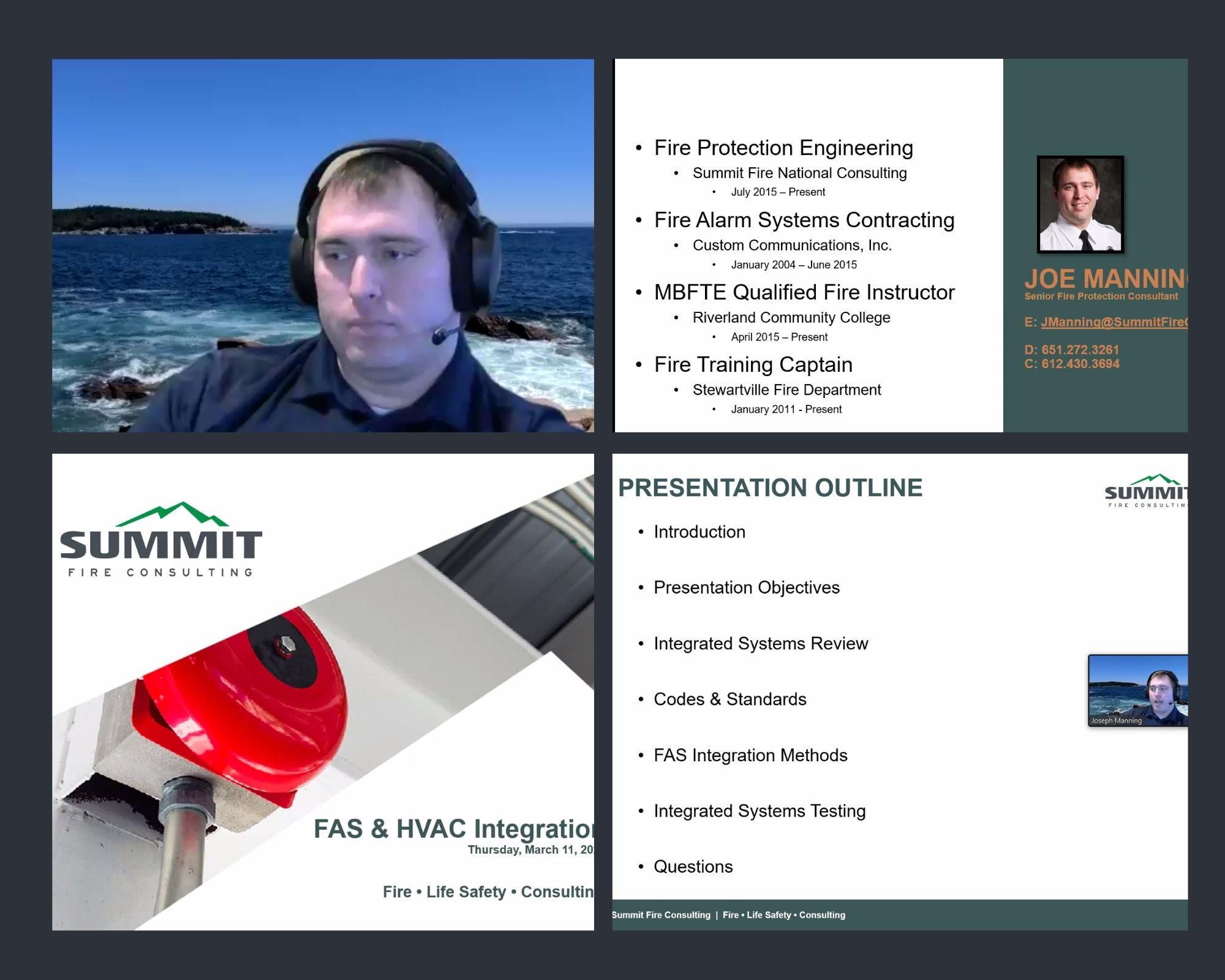 Joe Manning, a Senior Fire Protection Consultant with Summit Fire National Consulting, recently presented at the (virtual) annual meeting for the Minnesota Automatic Fire Alarm Association. Joe has been in the fire protection industry for over 16 years; 11 years in fire alarm system contracting and 6 years in fire protection engineering. Joe's formal education includes a Bachelor of Science in Fire Protection & Safety Engineering Technology from Eastern Kentucky University; he currently holds the credentials of Fire Alarm Systems Level IV from NICET and Certified Fire Protection Specialist from NFPA. Joe brings knowledge from a wide variety of projects including residential, historic, business, healthcare, high-rise and large assembly. Joe's expertise includes fire detection and alarm systems, mass notification systems, smoke control system design, and smoke control special inspections. As part of his current role, Joe works regularly with fire alarm systems and their integration with building systems (including mechanical systems).
Joe's presentation focused on the integration of fire alarm systems with other building systems, with a focus on building mechanical, or HVAC. Joe spent time reviewing general Code requirements governing this integration, including Minnesota State Mechanical Code Sections 606 and 607. Common building HVAC system components; and best practices of the physical interface. The various design requirements and integration parameters were discussed, including: HVAC system shutdown, smoke control system activation (as found in Minnesota State Building Code Section 909), and post-fire smoke exhaust system activation (as found in Minnesota State Building Code Section 919). Additionally, the testing and inspection requirements, both on initial acceptance and post-occupancy, of these systems.
Thanks for continuing to share your knowledge and expertise with the industry, Joe! Your work makes a difference.